View Cart
General
> Beginners Stained Glass Workshop - 2 Days
Beginners Stained Glass Workshop - 2 Days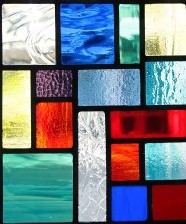 Tutor: Fiona Paterson

Date: Saturday 31st October & Sunday 1st November 2020

Time: 10am - 4.30pm(ish) depending on progress

Cost: £245 per person
If you have ever fancied having a go at making your own piece of stained glass art, then this is the course for you.
Learn how to draw a simple pattern - around 30cm x 30cm, choose your glass from our wide selection of colours and textures.
You will be taught how to cut and shape the glass, how to cut and fit the lead came and then the art of soldering the pieces together. Finishing off by cementing and polishing.
At the end of the 2 day workshop you will have completed your panel to take home and show off.
Tea, coffee & biscuits will be provided throughout the day to keep you going.

This workshops equips you with the basic techniques, but if you would like to further your skills, we also offer a 6 Week Stained Glass workshop, and glass fusing workshops....have a look at the class links to the left of this page.
Please note that this workshop requires 2 partcipants to take place...perhaps you have a friend that would like to join you.

COVID-19 PLEASE READ THIS BIT
Due to Covid-1 and current Scottish Government guidlines on social distancing, this class will have only 3 participants per session.
Hand sanitisers at all works stations.

Participants will have the use of 1 set of tools each (no sharing!).
The shop will be closed for the duration of the workshop.
We are unable to provide lunch, but there are a number of small hotels and cafes which can provide sit-in and takeaway meals and snacks. This also helps support local businesses.
There is also a supermarket just 3 minutes walk away.....or you can bring along a packed lunch.

You can book your class by emailing info@mearnsarthouse.com or telephone us on 01569 766080. Or visit the shop at 51 Allardice Street, Stonehaven, AB39 2AB.