Mearns ArtHouse
6 Week Stained Glass Class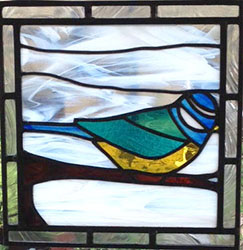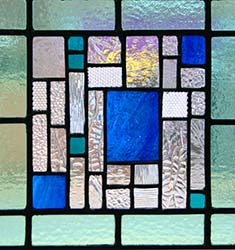 6 Week Day Class - 10am - 1pm
Beginning Friday 28th February - Fri 3rd April 2020
Beginning Friday 1st May - Friday 5th June 2020

Afternoon Class 1.30pm - 4.30pm
Beginning Thursday 27th Feb - Thursday 2nd April 2020
Beginning Thurday 30th April - Thursday 4th June 2020

6 Week Evening Class - 6.30 - 9.30pm
Beginning Thursday 27th February - Thursday 2nd April 2020

Beginning Thursday 30th April - Thursday 4th June 2020

Cost: £165 per person - includes use of equipment and all materials needed.
During this6 week course you will develop an understanding of the process, and techniques required to make your own unique stained glass panel.
Week 1.- Planning your design (bearing in mind that simple is best), decide on what method, materials & glass to use. Cutting techniques using practise glass.
Week 2 -Start work on your design. Drawing the cartoon. Begin cutting the glass.
Week 3,4 & 5 - Continue to work on your project. Cutting and grinding glass. Fitting the pieces together using lead came or copper foil. The art of soldering.
Week6 - Fininshing your work, cementing & polishing. Display
Please bring along any patterns or ideas you have and perhaps think about colours of glass that would suit your design.Although, there will be plenty design ideas to draw inspiration from
There will be also be asmall selection of specialist art glass to purchase if you would like to use this in your project. We can also order glass from our sample box - this would usually be delivered in time for the following weeks class.
This class will have a maximum of4paticipants to allow for individual attention. 15 - 16 year olds are welcome provided they are accompanied by an adult taking aprt in the course. Please wear old clothes and closed toe shoes while taking part.
To book your place please contact us on 01569 766080 or e-mail info@mearnsarthouse.com Please note a 50% deposit is required at time of booking to secure your place.
All classes are held at Mearns ArtHouse, Art & Craft Centre, 51 Allardice Street, Stonehaven,AB39 2AB.
The shop is on the main street which runs through Stonehaven town centre. There is pay per stay parking available at Market Square (2 minutes walk away), there is also parking on neighbouring streets, however, please be aware of parking restrictions.