Beginners Stained Glass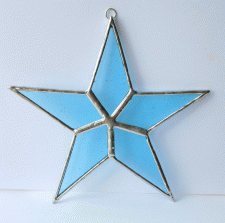 Half Day Workshop 9.30am - 1.30pm
Cost: £50.00 per person

What does the course cover?
An ideal introduction for thecomplete beginner. During this short class you will develop an understanding of the process and techniques needed you get you started in creating your own beautiful stained glass art. By the end of the workshop you will have made your own stained glass star suncatcher.
Cutting Glass
Grinding the pieces to fit
Copper foiling
Soldering
Cleaning & Polishing

All materials and equipment needed to make your unique stained glass sun catcher are provided. You can expect to complete a small piece such as a star. Those that have a little experience can go a bit further and tackle a heart, small geometric panel or yacht. Simple designis best for a first time!
Tea, coffee & biscuits to keep you going through themorning are also included. There will a wide selection of glass to choose from - but if you have particular colours in mind please mention this at time of bookingand we will do our best to make sure there is glass stock that suits you. There is also a small selection of specialist art glass and bevels available to purchase if you wish.
What To Bring...........
Just yourself and a bit of enthusiasm. Please wear old clothes - preferably with long sleeves as solder can spit and burn - you don't want to burn your best cardi! Closed toe shoes are also important for safety.
Mearns ArtHouse is located on Allardice Street, this is the street that runs through Stonehaven town centre. There is a pay per stay car park at Market Square (less than 2 minutes walk) and restricted parking on neighbouring streets. There are a variety of cafes, coffee shops, takeaways and a supermarket nearby.
Please note that 15 - 16 year olds are welcome, but must be accompanied by an adult taking part in the work shop. Classes have a maximum of 4 students to allow for individual attention.
The following dates are available for this popular workshop, the class has a maximum of 4 participants, book early to avoid disappointment:
Saturday 14th March - 9.30am - 1.30pm
Wednesday 3rd June - 9.30am - 1.30pm

To book your place, please telephone 01569 766080
or e-mail info@mearnsarthouse.com
A deposit of £25 is required to secure your place on ahalf day stained glass workshop. Remaining balance is payable on the date of the workshop.
Deposits will be returned if your chosen class date is cancelled.
All classes are held at;
Mearns ArtHouse, Art & Craft Centre
51 Allardice Street
Stonehaven
AB39 2AB